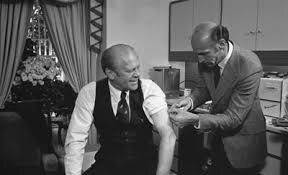 by Kerry Dougherty
Well, he did it again. Virginia's Commissioner of Misinformation, er Health, shot off his mouth and alarmed the public, and then state government factotums had to do damage control.
On Friday, WRIC ABC News reported that Virginia State Health Commissioner Dr. Norman Oliver "plans to mandate coronavirus vaccinations for Virginians once one is made available to the public."
Virginia state law gives the Commissioner of Health the authority to mandate immediate immunizations during a public health crisis if a vaccine is available. Health officials say an immunization could be released as early as 2021.

Dr. Oliver says that, as long as he is still the Health Commissioner, he intends to mandate the coronavirus vaccine.

"It is killing people now, we don't have a treatment for it and if we develop a vaccine that can prevent it from spreading in the community we will save hundreds and hundreds of lives," Oliver said.

Under state law, only people with a medical exemption could refuse the mandate.
With that, Oliver became the first state official in the US to threaten compulsory COVID vaccinations.
If Oliver has his way, Virginia will be the first state in the U.S. to force its citizens to be guinea pigs for a rushed-to-market vaccine, for a virus that is not nearly as deadly as originally thought.
And unlike some other states, Virginia's vaccine law doesn't allow refusal based on religious objections. An order from the health department could theoretically force every single person to roll up their sleeves.
Look, I am not an anti-vaxxer. I believe vaccines are important. I got my flu shot last year. But I prefer to weigh the risks and benefits before making my own decisions about inoculations. I definitely don't want a hastily produced vaccine forced on me or my family.
Anyone else remember the National Swine Flu Immunization Program debacle of 1976?
I do.
A flu outbreak at Fort Dix, New Jersey in the winter of that year frightened virologists who believed they were seeing a virus similar to the one that killed millions during the Spanish Flu pandemic of 1918. The US government rushed a vaccine to market with a $100 million program, with a goal of inoculating every single American. I still remember the photos of President Gerald Ford getting his swine flu shot.
The vaccine proved unsafe and caused at least 450 cases of Guillain-Barre Syndrome and is blamed for the deaths of several dozen others before the program was abandoned.
That's a cautionary tale.
Oliver's premature declaration last week made headlines in the national news and caused a stir on social media.
On Monday, the Virginia Department of Health tried to walk back Oliver's authoritarian statement.
When Dr. Oliver spoke of his support of a mandatory COVID-19 vaccine for adults, he was sharing his personal opinion as a physician. Currently, the Northam administration has taken no official policy position on whether or not a COVID-19 vaccine for adults should be mandatory. VDH regrets this error.
No official policy position. Lucky us.
When contacted by ABC, Gov. Ralph Northam's spokeswoman said the governor was not inclined to mandate a vaccine.
We are focused on accessibility, affordability, and fair distribution of a vaccine—not on a mandate.

When a vaccine becomes available, we're confident that Virginians will seek it out. That's why we don't have plans for a mandate.
Alena Yarmosky is right. If a SAFE vaccine is approved, people will be eager to be vaccinated. There won't be a need for a mandate because everyone wants to put COVID-19 in the rear view.
But after months of mask mandates and businesses being arbitrarily shutdown, Oliver's latest bloviation rattled some Virginians.
Enough already.
The commissioner should have been sacked in April when he spread panic by declaring that business closures and lockdowns under the governor's oppressive Phase One would last two years:
"Phase One will be a two-year affair," Oliver told the Richmond Times-Dispatch. "There are a lot of people working on this, and I hope they prove me wrong, but I don't see it happening in less than two years."
The thought of a two-year shutdown sent shockwaves around the commonwealth.
The next day the governor quickly refuted his health chief's statements.
"Phase One will not last for two years," the governor's office said in a text message to The Richmond Times-Dispatch. "We need to keep working together to beat this disease — not spread fear and misinformation."
Misinformation and ginning up panic has been Oliver's speciality. How much longer will he be allowed to head the important Virginia Department of Health?
This column is republished with permission from Kerry: Unemployed & Unedited.