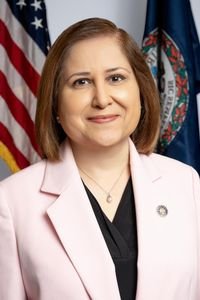 by Kerry Dougherty
mmm. Looks like things just got interesting — instead of merely horrifying — in last Tuesday's election.
If Luke Rosiak of The Daily Wire is correct, one Democrat member of the Virginia State Senate may be fighting to stay out of jail rather than taking her seat in the Capitol come January.
In a story headlined "Virginia Dems Could Lose Control of State Senate Because One Of Its Members May Have Lied About Her Residence," Rosiak claims that Ghazala Hashmi may not live in the 15th Senate District, rendering her ineligible to occupy the seat she won just last week.
Worse, Rosiak reports that Hashmi may have lied on the Certificate of Candidacy Qualifications that she signed last March. In it, she claimed to live in an apartment in Chesterfield while she may have been living in the $600,000 home in Midlothian where she has resided for decades. If these accusations are true, Hashmi could be facing a maximum fine of $2,500, up to 10 years in prison and she could lose the right to vote.
Rosiak reports that, before redistricting, Hashmi's Midlothian home was in District 10. She represented that district when she was elected in 2020. When the boundaries moved, however, Hashmi found herself living in District 12. Oddly enough, instead of running for that seat, Hashmi entered the race for District 15 and listed an apartment there as her dwelling place.
As it happens, District 12, where Hashmi reportedly DOES live, is a GOP stronghold, which was won by Republican Glen Sturtevant, who garnered 54% of the vote.
Redistricting turned District 15 into a safe one for Democrats, however, and Hashmi won with 61.94% of the vote. Her opponent, Republican Douglas Fisher got just 37.69%.
Fisher — a lawyer — told Rosiak that he plans to fight the certification of the vote. If she was ineligible, he reasons, he ran unopposed and should be declared the winner.
Not so fast, says Del. Tim Anderson of Virginia Beach. On X, the website formerly known as Twitter, he wrote that if the allegations turn out to be true, Hashmi would be disqualified from serving in the Senate, which would trigger a special election that would almost certainly be won by a Democrat in the safely Democratic district.
But if Fisher is able to keep the votes from being certified because one candidate was ineligible, perhaps he does automatically take the seat. After all, why should a party get a mulligan if it nominated an ineligible candidate who lied to get on the ballot?
Whatever the remedy, Hashmi could lose her seat. It's happened before.
Anyone else remember David Nygaard, who ran for Virginia Beach City Council in 2018? He lived in the Lynnhaven District but rented an apartment in the Beach District, which he claimed as his residence.
In a four-way race, Nygaard edged out incumbent John Uhrin by about 200 votes.
Nygaard was accused of not living in the district he represented and a three-judge panel agreed, vacating the seat that Nygaard had occupied for several months.
City Council appointed a placeholder and held a special election to fill the vacancy the following November.
Of course Nygaard's election had been certified and he'd been sworn into office by the time the court ruled.
Rules for residency and remedies for violations vary from office to office in Virginia. But Hashmi and the Dems could be in trouble if she did indeed falsify information in order to run.
Stay tuned.
Republished with permission from Kerry: Unemployed and Unedited.